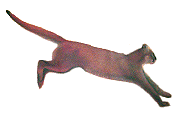 WHAT TO DO IF YOU LIVE IN MOUNTAIN LION COUNTRY
It is possible to live with these amazing predators if we respect mountain lions and their habitat. Here are some precautions you can take to reduce the risk of encountering a mountain lion on or near your property:
DO NOT FEED WILDLIFE.
By feeding deer, raccoons, squirrels or other wildlife in your yard, you may inadvertently attract mountain lions, which prey upon them.

DEER-PROOF YOUR LANDSCAPE.
Planting non-native shrubs and plants that deer like to eat encourages wildlife to come onto your property. Remember that predators follow prey. The California Department of Fish and Game has a brochure entitled "Gardening to Discourage Deer Damage", available at most DFG offices.
LANDSCAPE FOR SAFETY.
Landscape or remove vegetation to eliminate hiding places for lions, especially around children's play areas. Make it difficult for lions to approach unseen.

INSTALL OUT DOOR LIGHTING.
Light areas where you walk so you can see a lion if one is present.

KEEP PETS SECURE.
Roaming pets are easy prey and can attract lions. Either bring pets in at night or keep then in a kennel with a secure top.

KEEP LIVESTOCK SECURE.
Where practical, place livestock in enclosed sheds and barns at night, and be sure to secure all outbuildings.

CLOSELY SUPERVISE CHILDREN.
Keep a close watch on children whenever they play outdoors. Make sure children are inside between dusk and dawn. Teach your children what to do if they encounter a lion.

MAKE LOTS OF NOISE.
Especially if you come and go during the times mountain lions are most active -- dusk to dawn.
---